Utilities are one of the single largest line items in a typical campus operations and maintenance (O&M) budget, costing millions of dollars every year. Whether you're looking for ways to stabilize tuition, or seeking additional resources for core campus initiatives, energy management and cost reduction is a constructive place to start.
By applying sustainable design and construction practices, and implementing predictive service and maintenance programs, Trane has helped higher education institutions with energy management, resulting in savings of 10 to 20 percent on utility costs annually for new buildings; 15 to 30 percent for renovated buildings.
Lower energy costs
Virtually any action taken to reduce operating costs by reducing energy spending is a sound financial decision. Energy conservation measures (ECMs) implemented by Trane can literally transform an operating budget—producing short- and long-term cost savings to free up dollars for better use.
Opportunities to reduce energy are abundant on most campuses where buildings are typically over five years old. Compared to indoor climate control systems that are just a few years old, current high efficiency chillers, rooftop units, air handlers and other building systems from Trane use significantly less energy to operate.
A campus-wide energy audit conducted by Trane engineers can help you identify the best opportunities to reduce energy costs. Our professional engineers use industry-leading Trace™ 700 energy modeling software, a valuable tool that has been identified by the U.S. Green Building Council as an acceptable tool for measuring energy use for LEED® building accreditation.
Optimize operational spending
Campus Transformation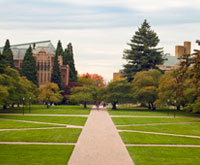 It's an ongoing dilemma: Budget constraints make it seem virtually impossible to catch up on deferred maintenance. Meanwhile, aging buildings and infrastructure cost so much to maintain and operate, there's never money left for improvements that would alleviate the problems once and for all.
Trane is helping colleges and universities to break the never-ending cycle of unproductive spending through our Campus Transformation approach. Based on a campus-wide analysis that considers operations and maintenance spending, the capital budget and more, Trane identifies deep savings opportunities to establish a "capital transformation fund."
Space optimization
Changing trends in both curriculum and campus living often require the redistribution or renovation of campus facilities. Spaces currently being used for one purpose must be transformed to suit something completely different. Trane professionals can collaborate with facility managers on campus to plan and implement upgrades and better energy management to assure that indoor climate conditions are optimal for the new application.
Learn more about Financial Services
Public Purchasing Agreements

Trane's relationship with U.S. Communities™ offers colleges and universities an alternative method to purchase world-class equipment and services. By taking advantage of the cooperative purchasing power of up to 90,000 public agencies, you are able to access the best overall supplier of government pricing, lowering the cost of operating schools while providing greater efficiencies and consistency in purchasing.