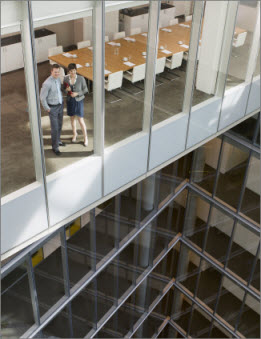 Empower productivity
Based on a review of more than 1,500 studies, the Center for Building Performance at Carnegie Mellon University confirmed that indoor environmental qualities, including lighting, ventilation and thermal comfort, significantly impact employee productivity.
Trane products, services and solutions help create—and maintain—productive work environments.
1. Accommodate employee preferences.
Changing workplace preferences are inspiring many building owners to reconfigure and remodel outdated spaces. Trane® Wireless Comm is a cost-effective way to implement controls upgrades and expansion projects by eliminating communication wires between system controllers, unit controllers, zone sensors and service tools.

Wireless Comm runs BACnet® protocol over ZigBee® Building Automation standards. Adding zone sensors and other devices in the future will be easy and affordable, requiring minimal labor, disruption and cost.
2. Develop backup plans.
Planned or unplanned, it can be extremely disruptive when critical building systems shut down. Facility managers frequently engage Trane in contingency planning. Trane Rental Services provide equipment solutions to handle temporary, emergency or supplemental needs for cooling, heating, power generation, dehumidification and compressed air.
3. Simplify comfort management.
Whether your building portfolio includes one facility or a hundred, Trane building controls make it easy to maintain comfortable and productive building environments. The innovative Tracer ES™ provides access to manage multiple buildings from one intuitive web-based user interface.
Protect profitability
What business isn't impacted by high and volatile energy costs? Buildings are huge energy consumers. According to the U.S. Department of Energy's Energy Information Administration, 55 percent of the total energy expenditure for a typical business can be attributed to heating and cooling. Anything that can be done to reduce that cost is low-hanging fruit, especially when it offers a fast ROI.
Where energy-related infrastructure upgrades are needed but the necessary capital is lacking, Performance Contracting may be the solution. Essentially, funding for today's infrastructure improvements—to HVAC systems, lighting, boilers, roofing and so on—is gained by leveraging future savings in energy and operational costs. The risks are minimal, because Trane guarantees the promised energy savings.
Learn more about how Trane can help you create more energy-efficient buildings that improve your bottom line. Read about Energy Efficiency.