Are You Ready?
Are you ready? Trane is out on the road bringing our commercial HVAC solutions directly to customers across North America! Our Acceleration Now tour is visiting 70 locations in 39 weeks, featuring two semi-trucks full of the newest Trane® chillers, air handlers, controls, terminal and variable refrigerant systems, aftermarket offerings and services.
Each location features an event showcasing many of the new products, systems and services Trane has launched over the past two years. The Acceleration Now tour is your chance to interact directly with these HVAC solutions — and with the Trane experts who know them best. Don't miss it!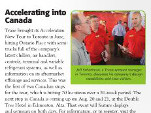 The Trane Acceleration Now tour has been featured in the Canadian publication Mechanical Business. The publication discusses the tour stop that took place in Toronto and talks about our upcoming stop in Edmonton. Check the article out here!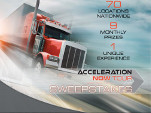 Enter here for your chance to win this month and enter the VIP Racing Experience for the #AccelerationNow Tour sweepstakes. Congratulations to Tom Sides who was the July winner. Tom won a Callaway White Ice Putter!