Are You Ready?
Get ready. Trane is hitting the road to bring our commercial HVAC solutions directly to customers across North America! Our Acceleration Now tour is visiting 70 locations in 39 weeks, featuring two semi-trucks full of the newest Trane® chillers, air handlers, controls, terminal and variable refrigerant systems, aftermarket offerings and services.
Each location visited will feature an event showcasing many of the new products, systems and services Trane has launched over the past two years. The Acceleration Now tour is your chance to interact directly with these HVAC solutions — and with the Trane experts who know them best. Don't miss it!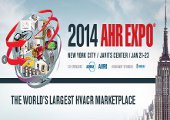 Trane at the AHR Show
Trane was at the 66th AHR show in New York City, NY, January 21-23, 2014 at the Javits Convention Center. AHR is the world's largest HVACR marketplace where Trane Commercial promoted the Acceleration Now tour that will kick off on March 31st, 2014 in Miramar, Florida. The show will have 70 stops throughout the United States and Canada.