The typical approach to HVAC systems is simply inadequate for restaurants. Here's why: Traditional HVAC systems introduce outdoor air, along with its undesirable temperature and humidity, into the kitchen through the make-up air unit. Then, the indoor air is conditioned for comfort and humidity by a separate heating and cooling unit.

Considering the large volume of outside air that is needed to replace exhaust air in commercial kitchens, this two-step process is neither efficient nor effective. Trane has developed a better HVAC solution.
A Better Approach to Kitchen Indoor Air Quality
Total Kitchen HVAC Solution
Total Kitchen HVAC® (TKHVAC) solution uses high-efficiency kitchen hoods with variable exhaust in combination with the Trane Total Outdoor Air Unit to provide superior kitchen conditions. Compared to conventional kitchen HVAC/MUA systems, the Total Kitchen HVAC solution uses up to 30 percent less electricity when cooling and up to 30 percent less gas when heating.
Kitchen hoods with variable exhaust controls run based on actual cooking loads, so they reduce wasteful energy use.
Kitchen airflow is up to 49 percent lower, which reduces fan energy use and minimizes turbulence in the kitchen that can compromise exhaust hood performance.
When outdoor air conditions permit, the kitchen climate is controlled by ventilation only. Heating or cooling automatically turns on when needed.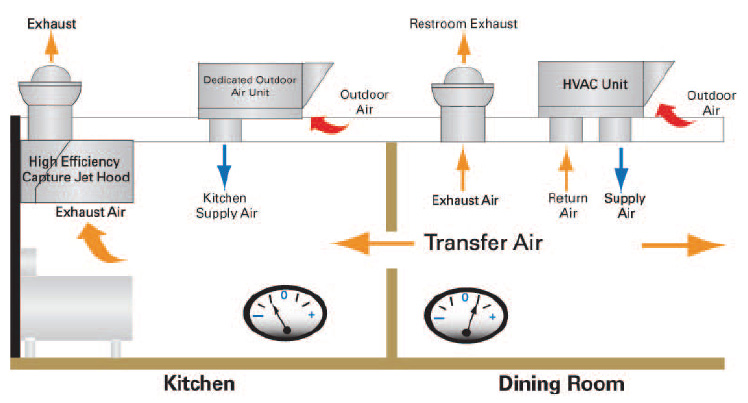 Total Kitchen HVAC systems with the Trane Total Outdoor Air Unit replaces kitchen hood exhaust with outside air that is properly conditioned before it streams into the kitchen.


The Trane Total Outdoor Air Unit (TOAU)
This innovative Trane solution properly heats, cools and dehumidifies 100 percent of the outside air that is needed before it enters the restaurant. TOAU makes it easier to maintain a well-balanced HVAC system, so kitchen odors stay in the kitchen, drafts are minimized, and unwanted humidity is reduced. Air feels cleaner and drier.

The Trane Total Outdoor Air Unit alleviates the problems associated with typical restaurant HVAC systems. It produces cleaner, drier air and more comfortable temperatures and uses less energy in the process.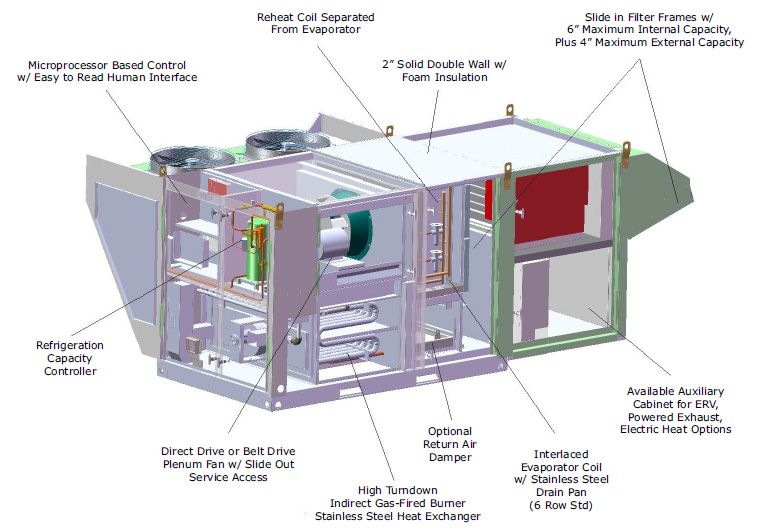 The Total Outdoor Air Unit and Total Kitchen HVAC system support Federal Leadership in High Performance and Sustainable Buildings objectives to optimize energy performance and improve indoor air quality.
Trane Integrated Comfort System
Variable speed exhaust hoods, Total Outdoor Air Units and HVAC control systems seamlessly integrate to create a Trane Integrated Comfort System that is highly sophisticated, yet easy to operate. Factory commissioning reduces on-site labor, speeds installation and improves the accuracy of daily operation.
Trane National Accounts
Offering a proven project management process, pre-commissioned controls, simplified procurement and factory-tested comfort solutions, Trane National Accounts serves organizations across the U.S. National Accounts customers enjoy consistent results and priority service. Call us: 800-872-6330.