Research supports better indoor air quality
Good indoor air quality (IAQ) is essential to healthy classrooms where conditions are right for learning. The relationship between indoor air quality in schools and student and teacher performance is now well documented.
Classroom ventilation improves health and wellbeing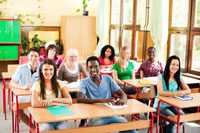 School buildings are especially susceptible to poor environmental conditions. They contain numerous pollution sources—lab chemicals, cleaning supplies, chalk dust and mold—and they typically have four times the number of occupants per square foot as office buildings.1
Any effective strategy for improving indoor air quality must be twofold:
Prevent outdoor pollution sources from entering classrooms as much as possible


Provide adequate classroom ventilation to dilute the build-up of contaminants and utilize appropriate air cleaning to remove dust, spores, particles, gases and other pollutants
The Trane Catalytic Air Cleaning System™ is a holistic solution designed to deliver cleaner air and better indoor air quality (IAQ) to any area in the school. The system helps control dust, particulates, odors, VOCs, viruses and bacteria that are frequently found in classrooms.
Classroom temperature impacts concentration and productivity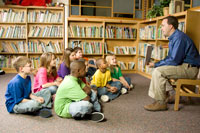 Research has shown that teachers and students perform best when classroom temperature and humidity levels are precisely controlled. Schools that are hot and stuffy—or cold and drafty—reduce attention spans and limit productivity.
Temperatures above 74°F and below 67°F adversely affect reading and mathematics skills. The problem is alleviated when classrooms and HVAC systems are designed or upgraded to maintain temperature and humidity within the comfort zone of 67° to 73°F with 50 percent relative humidity.2
Increasing the outdoor air supply rate through improved ventilation and reducing even moderately elevated classroom temperature has been proven to significantly improve students' speed and accuracy on a number of tasks.3
Easy-to-use Trane Controls enable the precise management of temperature and humidity to maintain classroom conditions within the parameters that are ideal for learning.
Quality school lighting is easy on the eyes…and utility costs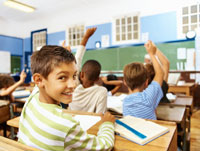 Proper school lighting makes visual tasks, such as reading and following classroom presentations, easier. Effective lighting reduces eye strain and fatigue, and decreases the amount of energy that is consumed, too. In addition to the direct energy use caused by turning lights on, there is an important indirect energy implication that must be considered, as well: light fixtures heat that must be eliminated by running air conditioning systems.
Trane implements effective, integrated school lighting strategies that optimize natural and electric lighting sources to enhance classroom visibility, minimize glare—and reduce utility spending.
1. Rosen and Richardson, 1999, EPA 2000.
2. ESource A SECTOR SNAPSHOT FOR K-12
3. Source for HVAC experiments: 1) EFA. 2001. Indoor air pollution in schools. Helsinki: European Federation of Asthma and Allergy Associations. 2) Wargocki, P. and D.P. Wyon. 2006a. "The effects of outdoor air supply rate and supply air filter condition in classrooms on the performance of schoolwork."